White Papers
Industry Leading Research, Analysis & Instruction
Coffee is evaluated ("cupped") professionally for many reasons. Some sensorial tests are performed to determine a relative quality based upon predefined criteria, some to determine difference or similarity of samples, and others to rank several samples in relation to each other. Most cupping forms and systems of analysis are based upon rating samples according to flavor attributes commonly found in all coffees using numerical scales. This is particularly useful in determining quality criteria for purposes of classification ("specialty" and "commercial" for instance) .
Descriptive cupping goes into greater detail exploring particular flavor attributes that may be unique to the sample. The challenge of defining a coffee product in...
Get Free Access to All Our White Papers When You Subscribe to Our Newsletter Today*
Get our periodic newsletter, full of coffee and business intelligence, delivered to your inbox — and get access to all our industry leading white papers too.
*When you subscribe we'll email a link to the white papers.
Product Development for a Coffee Blend
The coffee business is in a process of change. No longer considered a commodity (a single dimensional product, like sugar), consumers are realizing that there are significant differences in flavor, uses, and value in coffee. In response to this, on the supply side, roasters and green coffee producers are seeking to distinguish their products to meet the needs of different market segments.
Driving this process has been the specialty coffee industry. Small roasters (and some which started out small, but became quite large, such as Starbucks and Peet's) have been introducing products and exploring these new consumer needs. For years, the specialty coffee has been the fastest growing...
Designing Quality Control Programs for Coffee Products
Quality control programs ensure that the needs and expectations of consumers are consistently being met. An effective quality control program is one that can be continually observed, is efficient, and is able to isolate and measure the level of variability of quality perceptible to the consumer. Most quality control systems are put into place to reject products that do not meet set specifications, but an equally important function of a well designed quality control program is to anticipate conditions that will cause rejection.
The terms "quality control" and "quality assurance" are often used interchangeably, but they have different emphasis. The purpose of "quality control" (the main theme of...
Sensory Attribute Specifications and Quality Control
Sensory specifications are more difficult to define than more literal physical measurements. It involves development of a common language and reasonable agreement as to the intensity of the experience. One individual's perception of "high acidity" may be another individual's perception of "medium acidity".
Agreement as to relative intensity of various flavor attributes requires calibration among panelists as to language that will be used to qualitatively describe the flavor attribute and the relative scale put into place so that panelists can describe the intensity of that flavor. Panelists have different levels of sensitivity, experience, and innate preferences, however; so strict panelist agreement even with a calibrated panel is unlikely....
Summary of Coffee Technical Literature Regarding Green Bean Moisture and Color
While coffee is at its most stable in the green form, flavor loss and changes do occur over time. These are of interest to both roasters, who must deal with the changes in green coffee quality, and purveyors of green coffee, who must manage the storage conditions of green coffee to maintain maximum value. This paper does not contain any new experimental information, but is a summary of current scientific literature on the green coffee storage and transport. The major effects upon green coffee during these periods are relative humidity, moisture content, temperature, and gas composition1.
Physical Properties of Green Coffee
The physical properties of green coffee include...
A Thermodynamic Approach to Roasting Parameters and Stages of Roast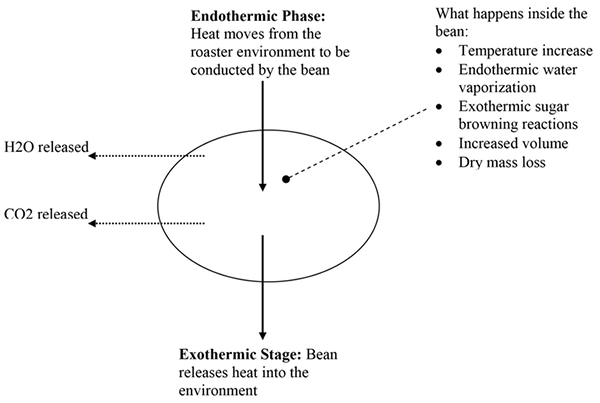 Roasting coffee is a thermodynamic process in which the application of heat and the resulting uptake of heat by the bean directly affects final flavor. The condition under which heat is applied is affected by environmental factors, including internal volume of the roaster, humidity, barometric pressure, and ambient temperature. The ability of the bean to take on heat and the rate at which the absorbed heat dissipates throughout the bean is a function of its physical state, including % moisture, density, and bean size. The chemical changes taking place at any instant in the process depend upon the amount of heat already taken on, the amount of heat...
Coffee Product Development and Design: Including the Consumer
To introduce a food product into the marketplace, three major aspects must be considered on their own and how they interrelate. The three are illustrated below, along with individual factors.
Using the Fishbone Diagram for Quality Control
Defining and Isolating Problems
The purpose of the "fishbone diagram" (developed by Japanese quality expert Dr. Kaoru Ishikawa) is to understand processes and the outcomes of those processes. Usually, it is used to isolate weaknesses and problems within processes, but the method can also be utilized to initially design processes. It divides different process aspects into various classifications and examines how they interrelate with one another.
Developing the diagram
The fishbone diagram assumes that all processes are known. Diagramming starts with a well‐focused challenge, problem, or goal; this is listed at the right and a line is drawn to the left with an arrow pointing to the final...
Coffee Varietals and Relationships
Coffee Appellation Development
With the development of roasters dealing directly with farmers, opportunities have begun to arise for farmers capable of providing coffees with unique flavor profiles that can be sold at a higher premium. These premiums tend to be less affected by vacillations in coffee prices. The key to these premiums is differentiation, usually as the result of higher quality (Lewin, Giovannucci, Varangis, Coffee Markets: New Paradigms in Global Supply and Demand PDF, 2004). One way this can take place is in development of appellation labels.
However, the majority of coffee is still sold as a commodity, a product that is not recognized as all that different from lot to...
Coffee Laboratory Setup
Coffee laboratories usually must serve several functions. It is rare for a medium sized roaster or growing country to have the facility space and capital for a fully functional laboratory dedicated to cupping, another dedicated to sample preparation, and another for physical testing. Often available testing facilities are also used in marketing to bring in customers for tasting products and training.
Challenges of laboratory design include:
Design a space that meets the needs and requirements of the work intended to be performed.

Provision of adequate space for personnel to comfortably move around and properly perform the various tests. This includes adequate counter space for the placement...
Green Coffee Sourcing and Analysis
This is a suggested approach for sourcing and analyzing green coffee for a small to medium sized roaster. The goal is to purchase the most appropriate coffee available for the specific use at the most reasonable price. The green coffee market can move considerably and this must be taken into account.
There are two parts, (1) determining the products to be offered and the scheduling of purchases and (2) the actual managing of quality. If the coffee products have already been determined, they can be evaluated by Songer and Associates to determine initial standards with the approval of the client.
Initial determinations
Determine standards for coffee products...
Training Coffee Cuppers
Coffee is a complex beverage, containing literally thousands of flavor chemicals. These chemicals interact, cancel each other, may be prominently perceived or not perceived at all. For this reason, sensory analysis will always play a role in the analysis of coffee.
A well-designed sensory analysis program makes the process as objective and replicable as possible while taking into account the subjective nature that is always present. Consistent sample preparation, sound application of statistics, proper chain-of-custody of samples, and accurate recording of results play the same role in a sensory test as they do in any scientific experiment or procedure. One of the most important aspects of a sensory...